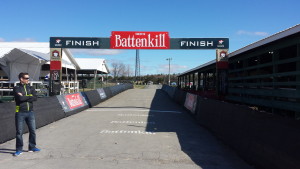 I spent a lot of time preparing for this event making sure my ride and engine were in order. Since the ride included some gravel sections I decided to go tubeless. I purchased a pair of shimano dura ace c24s and went with schwalbe one tubeless tires.the setup was great I was able to run them at 80psi.
To save everyone from reading my super long ride report. I'll post my summary first.
Overall it was a unique event, riding in farm country on some dirt roads. The roads were in much better shape than ours. I accomplished my 2 goals for the day. I averaged over 15 mph for the ride and I finished. I wouldn't of accomplished either without the help of the people I met along the way.
Scott and Adam also road and both finished very respectable times.
I arrived at Washington County fairgrounds and parked on the lawn, a nice change from the the usual city parking lots found at most Fondos.  It was quite chilly when I stepped out the car and I was worried I didn't pack warm enough clothes.  
I checked in and walked around the expo, and then found Scott and Adam. We also met up with Antonio who has joined us for a few RBC rides.
We walked back to the car to get dressed. It luckily warmed up and I was able to get away with base layer, Jersey,Shorts, arm warmers and full fingered gloves.  I took a quick spin around the parking lot and slipped on some gravel and went to the ground. I hoped it wasn't a sign of things to come.
I caught up with Adam and Scott and we arrived at the start 3 minutes before the gun.  We hopped in with the others and off we went. It was a fast start, Scott and I got separated from Adam, but we put in a big effort to catch him, I got separated from Scott and Adam on the first hill and didn't see them again until the finish.
Mid way up the first climb I passed Antonio who was speaking with one of the many Sag motorcycles on the course. I found out afterwards he broke a spoke and had to abandon after only 4 miles.
After the first climb the pace picked up a bit and I hopped from wheel to wheel for a while. I latched onto a nice group from he Ridgewood Bicycle shop and let them do the work for a while.
We hit the first dirt road and I wasn't sure what to expect.  The road was in better shape than most of the roads around here.  You needed to keep an eye out for the occasional hole or pile of gravel, but they weren't to bad. Climbing was definitely harder on the dirt, requiring more effort than on paved roads. The first descent was a little scary, since I didn't know what to expect.  
Once I was back on pavement I regrouped with my new team, They quickly noticed I wasn't pulling my load and sent me to the front. The 8 of us formed a double pace line and kept a nice pace. splitting up on the dirt sections and regrouping on the pavement. We spent most of the day following this pattern.
We took a quick break at the first feed zone. It had water, bananas and mini clif bars, not as nice as other rides I've been on, but it was enough to get by.
We continued on, hitting the steepest climb of the day that happened to be dirt.  Someone fell and few people had to get off their bikes and walk to avoid her. The climb was so steep the walkers were going faster than most of the cyclists.
We hit the pavement and quickly got back into another double pace line.
We hit the second feed zone and the sign was in front of a bunch of cows being who were being fed.  The second feed zone was at mile marker 48 so we knew the end was in sight.
The last 20 miles were tough, but uneventful, Dirt, Road, paceline, dirt.  the last climb and dirt section were 2 miles from the finish. They weren't letting you get off easy on this course.
The finish was fun, since it was narrow fenced in Road that we ½ halfheartedly sprinted through.  
Scott and Adam were waiting for me at the finish. We exchanged war stories and then headed home.
Thanks to Adam and Scott for signing up last minute at was great to have friends at the start and finish.